Coinmerce received the best deal broker of 2019 award from CoinCompare on January 8th, 2020.
Coincompare: ''
Coinmerce
! Bring in the champagne and light up the fireworks ! The inevitable happened, next to becoming Best Deal Broker December, has Coinmerce also become the Best Deal Broker of the year 2019! Which is a first on CoinCompare, as we are tracking the digits for a full calendar year now. It is hard to beat Coinmerce when having a dominating 132 entries and a 35.10% share in December. A gain of 5.26% in comparison to the previous month. The two brothers don't stand still either, because they have hinted to us that they are working on a new complete web- and app-re-design. We are excited, because "it's going to be HUGE!". More will be announced on short notice from their own channels.''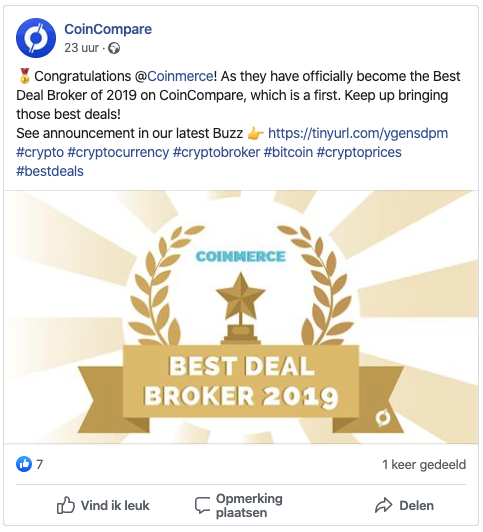 About CoinCompare
Coincompare, is an online comparison service that is active to compare 16 brokers of crypto and their prices. What makes us unique is that we display all crypto that can be compared in one overview.