What is Tezos (XTZ)?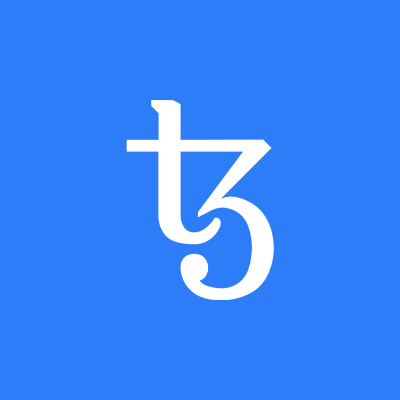 Just like most other native cryptocurrencies,
Tezos
is a decentralized ledger that makes use of blockchain technology. Tezos is an ancient Greek term which stands for "smart-contract", as you may expect Tezos is designed to operate
smart contracts
. The digital token, which is linked to the Tezos blockchain, XTZ or Tez, is not mined like other cryptocurrencies. Instead, additional XTZ are rewarded to holders of the crypto. This mechanism is what's called a Proof-of-Stake (PoS) consensus mechanism.
The project is intended to be a self-governing and continuously evolving network. This is done by letting the network participants directly controlling the rules of the network.
After a very successful ICO in 2017 during which the team managed to raise $232 million, the project was plagued with legal and management issues. This caused the project to lose momentum and encounter significant delays.
How can I use Tezos (XTZ)?
You can buy, sell, send, receive, store and stake Tezos (XTZ).
Staking Tezos
means that you will receive a reward for participating in the network and using your current holdings to help secure the blockchain.
Who founded Tezos?
The project was founded in 2014 by Arthur Breitman and Kathleen Breitman. Since then, they have been building the network with a core group of developers. Before founding Tezos, Arthur has been employed by companies like Morgan Stanley and Goldman Sachs. Kathleen has gained her experience by working at organizations like Accenture, R3 and Bridgewater Associates.
Tezos vs other cryptocurrencies
The most significant way Tezos distinguishes itself from other cryptocurrencies is by its governance model. While most projects are directed by the development team or miners, with Tezos this is done by the network itself. The team itself describers the governance model as following:
Tezos takes a fundamentally different approach by creating governance rules for stakeholders to approve of protocol upgrades that are then automatically deployed on the network," its developers claim. "When a developer proposes a protocol upgrade, they can attach an invoice to be paid out to their address upon approval and inclusion of their upgrade.

Can I earn money with Tezos?
Yes, you can earn money by trading and staking Tezos (XTZ). Buy low, sell high. Tezos can be used to trade against other cryptocurrencies. The price of
XTZ
tripled between October 2019 and February 2020. Be aware that Tezos has proven to be volatile, and losses can follow profits. Always trade responsibly.
Trade Tezos XTZ at Coinmerce
.
How can I stake Tezos (XTZ)?
Because Tezos uses Proof of Stake, you have the option of staking XTZ tokens. By staking these tokens, you can earn a return on the tokens that are otherwise in your wallet.
When you stake Tezos, you commit the tokens to the Tezos blockchain for a certain period of time. Then these tokens are used by the validator nodes in Tezos' network. These validators take care of the validation of transactions and add new blocks to the blockchain. So this is where you contribute when you decide to stake Tezos.
You can stake Tezos by setting up a validator node yourself. This is quite difficult when you have little technical knowledge about staking. It is also possible to stake Tezos at Coinmerce. You can do this from your wallet, or on the Tezos coin page. Here you can also buy Tezos that you can then stake directly.
Staking XTZ tokens at Coinmerce can yield a 4% return per year. You will need to stake a minimum of 10 euros worth of Tezos tokens to get started. The staking is flexible and you can stop with staking whenever you want.