Team Jumbo-Visma and Coinmerce give double meaning to the term 'good course' with cooperation.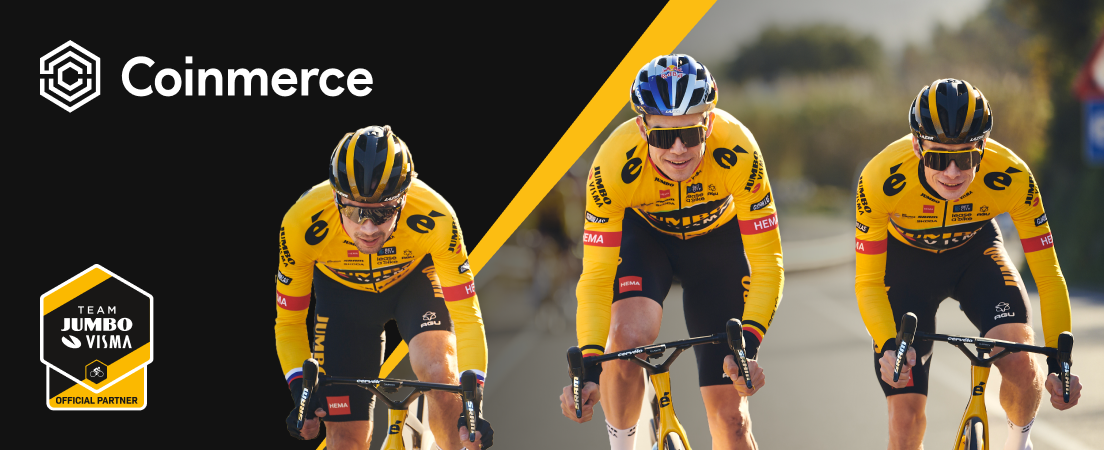 AALSMEER - Starting today, Coinmerce is the official cryptocurrency partner of Team Jumbo-Visma. Both teams are joining forces by announcing that the Dutch cryptocurrency broker will become a cycling and ice-skating team partner. Within this partnership education to introduce fans of ice skating and cycling to cryptocurrencies is the central factor. For Team Jumbo-Visma, a good course is essential, as well as for Coinmerce. A nice parallel in which the two parties have found each other.

Coinmerce is a registered cryptocurrency broker with De Nederlandsche Bank. Users of the Coinmerce platform can buy, sell and securely store a wide range of cryptocurrencies.
Coinmerce will pay out the bonus in Bitcoin.

Team Jumbo-Visma sees a rising trend in cryptocurrency, which they are also involved in as a sports team. For this reason, Coinmerce rewards Team Jumbo-Visma's sports performance by paying out part of the sponsorship amount in Bitcoin. Like sports, crypto can be unpredictable. How much will be paid out has everything to do with the cryptocurrency's price at the time, so this reward isn't a set price yet. Bitcoin has had a value of €3,500 in recent years as well as reaching the all-time high of nearly €57,000, so anything in between is still possible. Of course, the value could also go even higher. For Team Jumbo-Visma, this is an extra motivation to win as much as possible.
Never before has there been cooperation between an ice-skating and cycling team and a crypto platform. Team Jumbo-Visma knows the feeling of winning and losing like no other, a feeling familiar to the Coinmerce target group. Within this collaboration, Coinmerce and Team Jumbo-Visma can give cycling and ice-skating fans as much insight as possible into the risks and opportunities of this market. This will prevent people from randomly putting their money in all kinds of cryptocurrencies and possibly losing a lot of money in the process.
Crypto is like sports: no risk no glory

"We have noticed that our target group is increasingly interested in crypto and sports," Jaap de Bruijn explains, CEO of Coinmerce. "That's why we are incredibly proud to be able to work with such a big name as Team Jumbo-Visma. Together we want to guide people in a pleasant way through our platform and the world of cryptocurrencies in general. Team Jumbo-Visma has a remarkable history in terms of achievements, and we look forward to supporting them in their future achievements."
Team Jumbo-Visma is also excited about this partnership.
Richard Plugge, director of Team Jumbo-Visma: "Our cooperation with Coinmerce fits into the development currently taking place across all sorts of top sports. New initiatives and innovative companies are looking to connect with sports teams to reach a wide audience. For us - as a team - it offers opportunities to continue to grow and to be the best cycling team in the future. The collaboration between Coinmerce and Team Jumbo-Visma feels natural because, for both of us, it's all about a 'good course.' You can win or lose; it's all in the game."
More will be announced in the coming months about the educational program that Team Jumbo-Visma and Coinmerce will set up.