Elon Musk does it again on Twitter! Doge rises by over 30%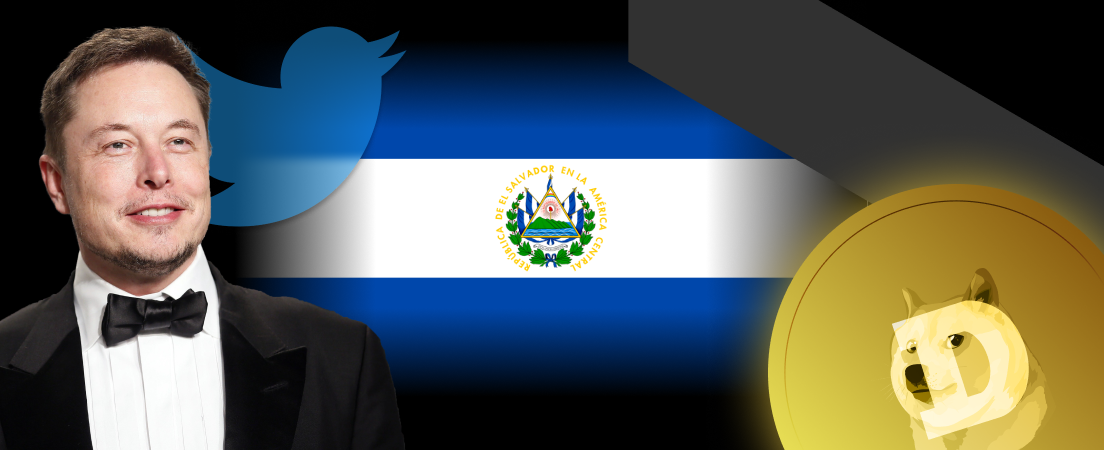 Dogecoin rose by 30% after Elon Musk changed the logo on his Twitter profile. In other news, El Salvador abolished taxes on technological innovations and Injective introduced a layer-2 testnet for Solana apps in the Cosmos ecosystem. Read our full news overview!


Dogecoin rises by 30% after logo change on Twitter
Dogecoin has risen in value by more than 30% after Twitter changed the logo of the app to the Dogecoin logo. This happened at the same time Elon Musk is involved in a lawsuit in which victims demand $258 billion from him, claiming that he intentionally raised and crashed the price of Dogecoin. Musk is a well-known fan of Dogecoin and has previously endorsed the meme cryptocurrency as a better payment option than Bitcoin.

The lawsuit against Musk is still ongoing, but his lawyers claim that the charges are "imaginative fiction" and that his tweets are harmless. In addition to his involvement in the lawsuit, Musk also recently signed a petition about the dangers of artificial intelligence, which states that its development can be dangerous for humanity.

The rise of Dogecoin after the Twitter logo change shows how influential Musk is in the cryptocurrency market and how his recommendations can affect the value of Dogecoin.


El Salvador abolishes taxes on technological innovations
El Salvador has decided to abolish taxes on technological innovations to stimulate the development of new technologies. The country has previously taken a controversial step by accepting Bitcoin as legal tender. The establishment of the National Bitcoin Office (ONBTC) is the result of this. This office will act as a regulatory body for collaborations between Bitcoin entrepreneurs and companies.

By abolishing taxes on technological innovations such as coding, app development and AI, and the production of computer and communication hardware, El Salvador hopes for more economic growth and technological progress. It is a step that fits into the vision of Salvadoran President Nayib Bukele to position the country as a technological and economic power.

The legalization of Bitcoin as legal tender was already a controversial step, but with the abolition of taxes on technological innovations, El Salvador goes further. President Bukele sees technology as a means to fight hyperinflation and reduce dependence on the US dollar. It remains to be seen whether this vision will be realized.


Cardano wallets gain access to Ethereum dApps through EVM contracts
Cardano (ADA) wallets will soon have access to Ethereum (ETH) Virtual Machine (EVM) contracts with any Cardano wallet. This means that users of Cardano will be able to easily access decentralized applications (dApps) developed on the Ethereum network without having to purchase additional tokens. The Milkomeda network, which connects blockchains like Cardano to EVM contracts, makes this possible.

The Ethereum Virtual Machine (EVM) is a crucial part of the Ethereum network and refers to the environment in which all Ethereum accounts and smart contracts reside. It acts as a virtual machine used by developers to create decentralized applications and keeps the latest version of the blockchain. It runs based on instructions written in the Solidity programming language.

Ethereum application developers can now build on the Cardano network using Solidity, without the need to install new toolkits or learn a new language. This allows for the development of dApps and decentralized finance (DeFi) applications that are exclusively used with Cardano tokens instead of Ether. This increases the value of ADA tokens for holders of the Cardano wallet, as they do not need to purchase additional tokens to access dApps developed on the Ethereum network.

The expansion of access to EVM contracts on Cardano is a significant development for both developers and users of decentralized applications. It allows developers to use Cardano alongside Ethereum for building dApps, while users of Cardano wallets now have access to a wider range of decentralized applications without having to purchase additional tokens. This increases the functionality and value of Cardano for users and investors.


Injective launches layer-2 testnet for Solana apps in Cosmos ecosystem
Injective, the developer of the Cosmos-based network, has launched a layer-2 testnet that utilizes Solana's Sea Level Virtual Machine (SVM). This means that some Solana developers can now test their apps for use in the Cosmos ecosystem without having to change programming languages or tools. The new testnet, named "Cascade," was developed using Eclipse, a company that offers custom zero-knowledge and optimistic rollups for developers. The testnet is currently private, but Injective is offering a limited number of spots for Solana developers to test their apps on the testnet.

The integration is expected to benefit both the Solana developer community and Cosmos users, according to Eric Chen, co-founder and CEO of Injective Labs, as it provides more opportunities for users to experience the best Web3 DApps on one integrated network.

Solana Web3 apps are written for use with Solana SVM, which is used by few networks other than Solana itself. This makes it difficult for Solana developers to move their apps to other networks without extensive rewriting.

With the new testnet, Injective hopes to attract more users to their apps and the Cosmos ecosystem as a whole. The launch of the testnet comes at a time when the number of active Solana development teams has increased by over 1,000% from the previous year.