What is Earn?
Can you remember a time where banks paid interest on your savings? In today's world, that is almost no longer imaginable. The historically low interest rate means we no longer receive any return on savings. Combinated with high inflation, savings in bank accounts are worth less and less.
You can change that with Coinmerce Earn. This is the way to earn crypto on your crypto.
With Earn you can let your cryptocurrencies work for you. It is possible to earn up to 15% in annual rewards within just a few clicks. These are one of the highest percentages in Europe!
How does Earn work?
With Earn you can earn money without having to do anything yourself. You lend your cryptocurrencies to institutional investors and third parties, after which you receive rewards for making your crypto available. You receive the proceeds in the same cryptocurrency that you used for Earn. Are you wagering
Bitcoin
for Earn? Then you receive Bitcoin as a reward.
The proceeds are automatically redeployed for Earn. This causes the proceeds to grow larger and larger over time. Albert Einstein also called this snowball effect, where you earn "return on return," also known as the eighth world's wonder.

Why is Earn interesting to you?
Earn is interesting for investors who want to earn a return on crypto they don't want to use in the short term. Years ago, you received interest on savings that you kept at the bank. However, this is no longer the case. Nowadays, banks receive almost no interest on savings, or in some cases you even pay a fee to deposit money at the bank.
Using cryptocurrencies for Earn gives you a return without having to work for it. Earn is thus the ideal way to generate a passive income. This income can only increase over time due to the compounding effect. By redeploying earnings for Earn, subsequent earnings will be even greater.
All the advantages of Earn in a row:
Use more than 42 cryptocurrencies for Earn
Participating in Earn is possible from as little as €10
You will be paid on a weekly basis
One of the highest earnings percentages in Europe
You can stop or top up at any time
There are no costs involved in participating
How much can you earn with Earn?
You can trade over
200 different cryptocurrencies
on Coinmerce's exchange. This is the largest selection of cryptocurrencies in the Netherlands and Belgium. Then Coinmerce also offers the largest number of cryptocurrencies that can be used for Earn. Earn offers support for 42 different cryptocurrencies and stablecoins, whose returns vary between 0.5% and 15%. The range of supported cryptocurrencies will increase in the future.
You can bet the following coins for Earn:
View all Earn cryptos here
Staking
In addition to Earn, it is possible to deploy the following coins for
staking
. In the future, the number of cryptocurrencies you can use for staking will be further expanded.
View all cryptos you can stake here
What is the difference between Earn and staking?
At first glance, Earn is very similar to staking. In both cases, you are letting your cryptocurrencies work in order to earn a return on the coins deployed. Yet there is a big difference between Earn and staking.
With staking, you deploy tokens to validate transactions on a Proof of Stake blockchain. In this case, you contribute to the operation and security of the blockchain. For this, you receive a reward in the form of new coins.
When you deploy your cryptocurrency for Earn, you lend it to institutional investors and third parties. Coinmerce has thoroughly researched these third parties and will continuously monitor them. They deploy cryptocurrencies in order to make a profit on them. They do this in a variety of ways. The profits made will be distributed to participants as rewards.
Earn at Coinmerce: activate Earn in 5 steps
Before you can use Earn, you need a Coinmerce account.
Don't have an account at Coinmerce yet? No problem! Within 5 minutes you'll have created an account and can start using Earn immediately. Coinmerce will give you €10 in Bitcoin for free when your first crypto purchase is over €100.
Click here to create an account
.
Don't have any coins in your wallet yet? Then follow the steps below to use Earn. Do you already have the coin in your wallet? Skip the next 5 steps.
Step 1:
Log in to your account and go to the page with all our cryptocurrencies (Coins in the menu
Step 2:
Select a coin that is available for Earn (you'll find a list above). You will then see how much you can receive in rewards on a yearly basis by activating Earn for this coin.

Step 3:
Indicate how many coins you would like to use for Earn. Click 'Earn' to purchase the coins.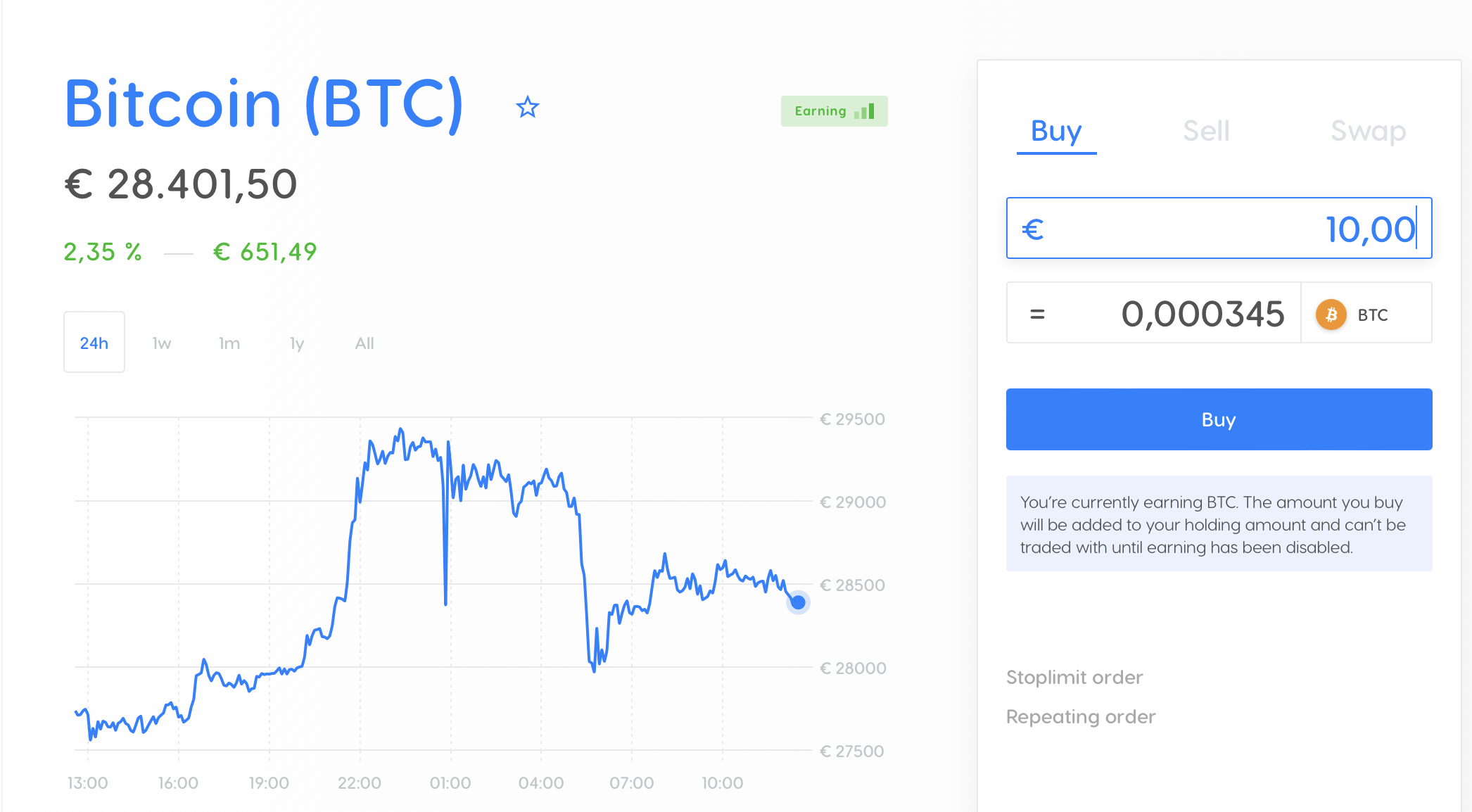 Step 4:
Complete the purchase by paying with iDEAL, SEPA, Giropay, MyBank or credit card.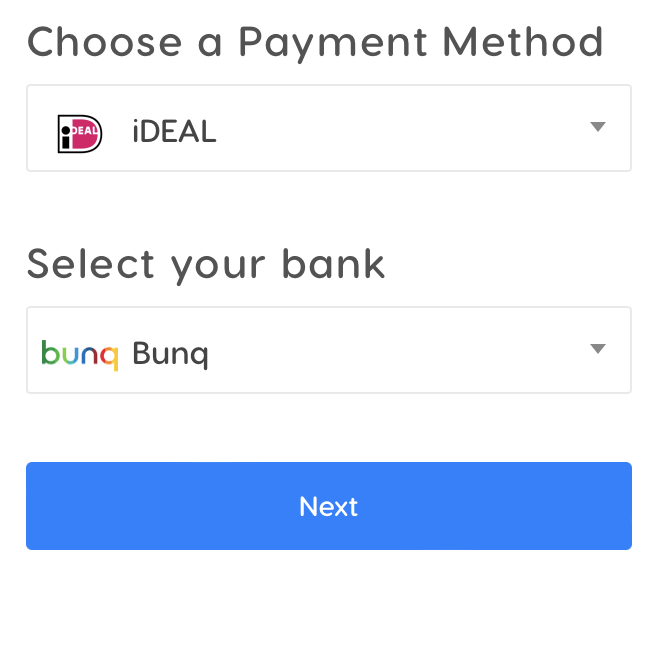 Step 5:
Your coins are immediately used for Earn. In your wallet, you can see how much return you have already earned.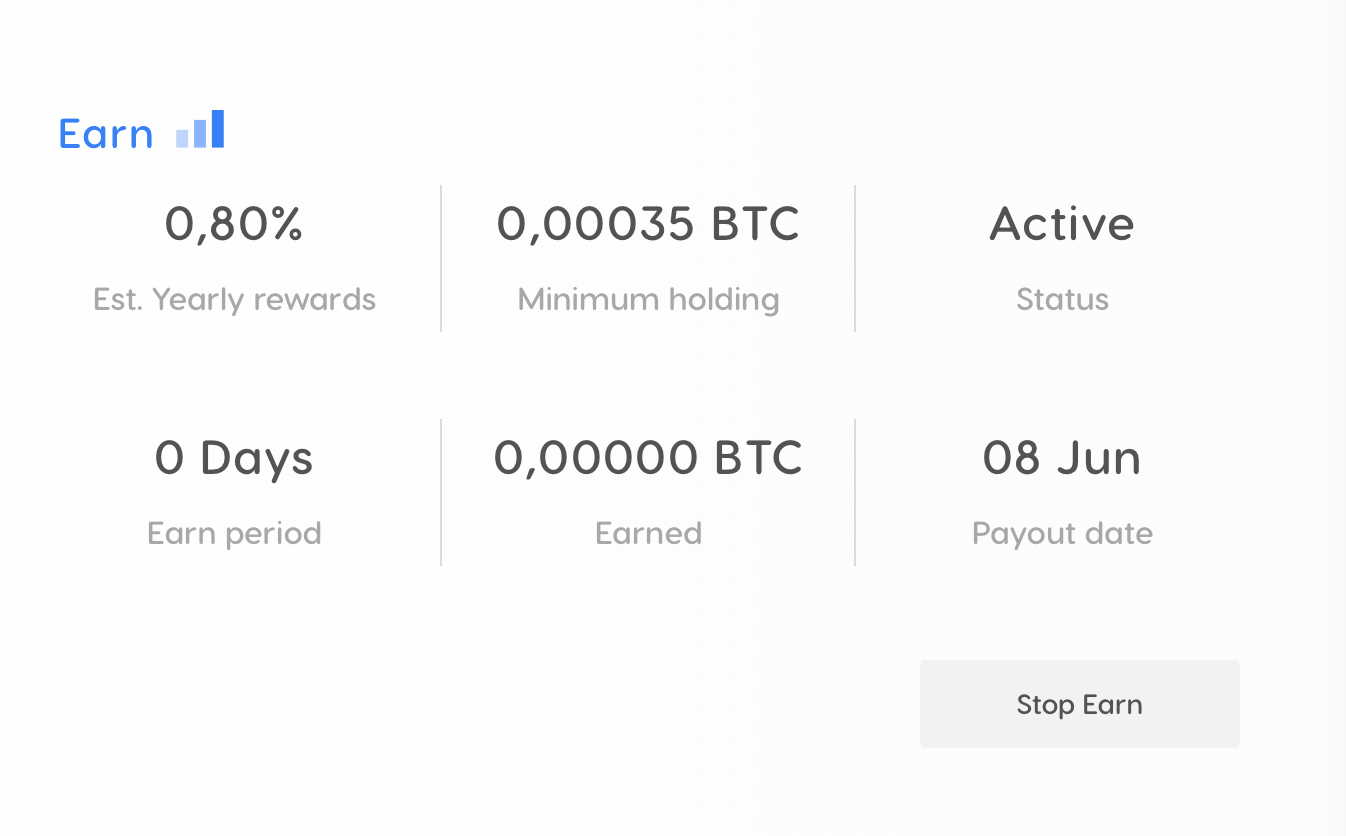 Do you already have coins in your wallet that are supported for Earn? Then follow the steps below:
Step 1:
Log in to your account and go to your wallet.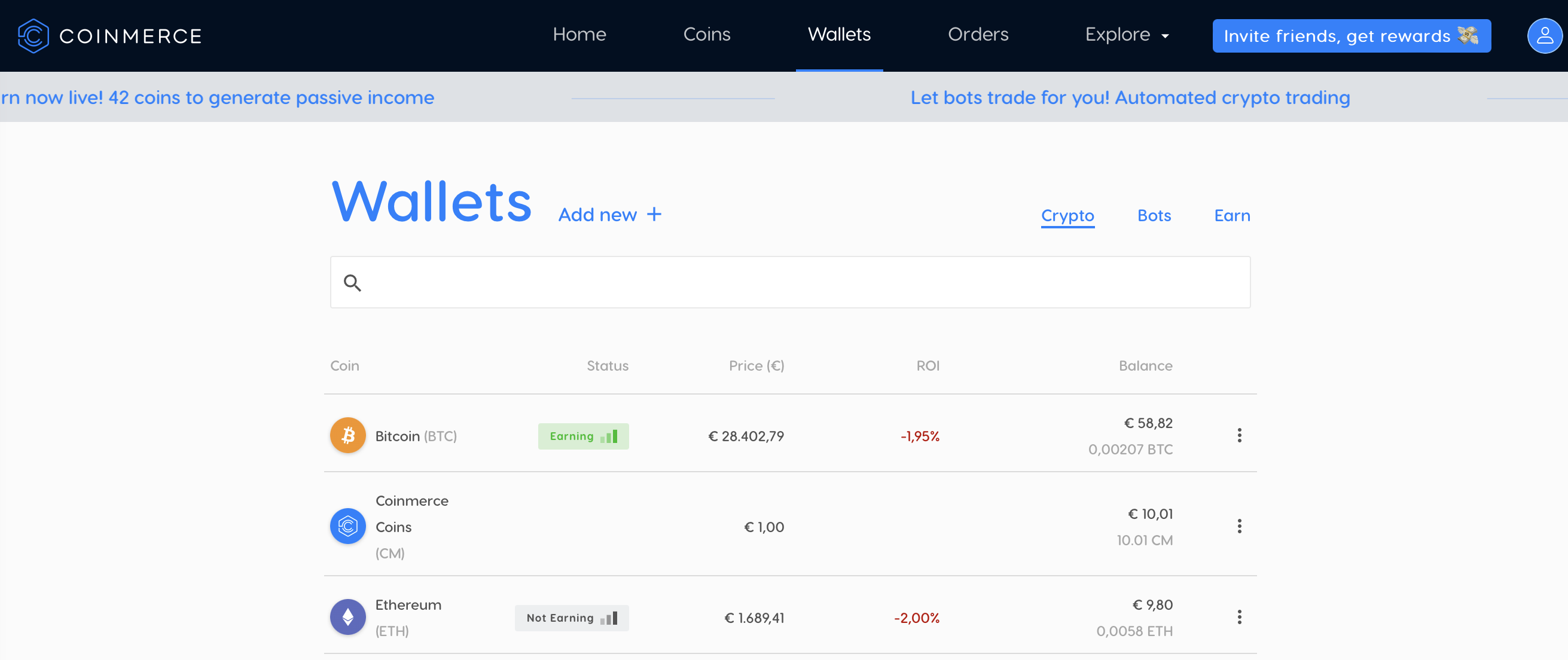 Step 2:
Search for the cryptocurrency you want to use for Earn, and click on the three dots behind it. You can also activate Earn on the coin page.
Step 3:
Click on "Earn".
Step 4:
A screen opens with more information. Click on 'Earn' to start earning revenue.
Do you have questions about Earn or can't figure it out?
See all frequently asked questions about Earn here
. Also, our support team is here for you to help via chat, phone and email.