Top 10 Avalanche Coins 2023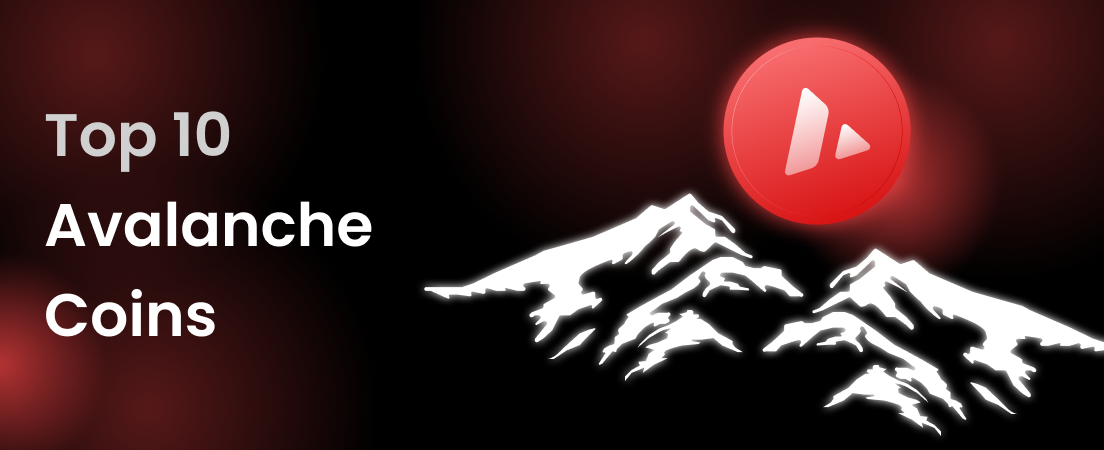 The company Avalabs developed a protocol called the Avalanche Consensus Model in 2022. The Avalanche protocol is uniquely built compared to major cryptocurrencies like Bitcoin and Ethereum. The Avalanche Consensus Model is similar to the Proof of Stake algorithm in many ways, yet there are small differences in which Avalanche aims to improve on the Proof of Stake algorithm.

Avalanche's network is better protected than the networks on which Ethereum and Bitcoin run. For example, someone can take control on Bitcoin's network if they own 51% of all computing power. With Ethereum, control can be taken over if one person owns 51% of the coins used to strike. With Avalanche's network, this percentage is 81%.

The Avalanche blockchain has an extensive ecosystem with oracles, DAOs, gaming NFTs, wallets, dApps and DeFi.

Want to know more about Avalanche Coins? Below, we list the top 10 Avalanche coins of 2023 for you. So read on quickly!


1. Avalanche (AVAX)
Avalanche (AVAX) is a smart contract platform focusing on Decentralised Finance (DeFi). Avalanche's big goal is to knock Ethereum off its throne as the market leader. To pursue their goals, Avalanche's team has built an open-source blockchain to process up to 4,500 transactions per second. The AVAX token can be used to pay transaction fees on the platform.

Focusing entirely on DeFi, Avalanche has built its ecosystem for this purpose, enabling a decentralised network for developers. In addition, the platform is developing a bridge to Ethereum's network, allowing users to easily and quickly send assets from Avalanche to Ethereum and vice versa.


2. JOE (JOE)
JOE (JOE) is an Automated Market Maker (AMM) based on other DEX and built on Avalanche. The platform combines DEX services with DeFi, such as lending, borrowing and offering leverage trading. JOE also provides trading, liquidity pools, farming and staking of cryptocurrency. JOE's platform is better known among the community as Trader Joe.

Trader Joe focuses on several values they identified at launch. For example, the platform focuses on the community and puts the community first at all times. The platform also aims to be innovative, fast and secure, but offering DeFi to everyone is paramount.


3. BENQI (QI)
BENQI (QI) is an Algorithmic Liquidity Market Protocol, meaning it is a cryptocurrency on the liquidity market. You can borrow, lend or earn extra money on top of your cryptocurrency investment on the platform. BENQI is fully decentralised and far ahead of other platforms regarding scalability.

BENQI is busy with DeFi, trying to solve existing problems that spell traditional finance. For example, the platform is trying to solve high gas costs and network congestion with DeFi.


4. Platypus Finance (PTP)
Platypus Finance (PTP) is a decentralised exchange protocol built on the Avalanche blockchain. The platform is designed for the exchange of stablecoin (ERC20 tokens). The Platypus Finance protocol is implemented as a set of smart contracts.

Platypus uses a first-of-its-kind open liquidity pool stableswap. This liquidity pool enables liquidity provision and eliminates impermanent loss risks for liquidity providers. The Platypus platform optimises scalability and also offers an excellent user interface.


5. DeFi Kingdoms (JEWEL)
DeFi Kingdoms (JEWEL) is an NFT game with a decentralised exchange built on the Avalanche blockchain. The platform also offers a liquidity pool and a utility-driven rare NFT market. All these platform features unfold into a nostalgic form of fantasy pixel art.


6. Kalao (KLO)
Kalao (KLO) is an NFT ecosystem that applies VR technology to develop virtual worlds and drive digital transformation in business. Kalao integrates the NFT marketplace with low cost and ease of use as its advantages. Kalao's platform is built within Avalanche's ecosystem.

Users can create, buy, sell and collect NFTs through the Kalao Marketplace infrastructure. Because Kalao is built on the Avalanche blockchain, it can benefit from the speed, low network costs and security to deliver beautiful user experiences.


7. Crabada (CRA)
Built on the Avalanche blockchain, Crabada (CRA) is a play-to-earn game with its own NFT marketplace. In Crabada, you go on adventures with your crabs. Each crab in the game is an NFT, which you can use, trade or improve. By being active in the game, you can earn cryptocurrency. In Crabada, you can use TUS and CRA tokens to earn and spend in the game.


8. Pangolin (PNG)
Pangolin (PNG) is the first Automated Market Maker (AMM) DEX project built on Avalanche's ecosystem. On this platform, users can exchange Avalanche and Ethereum assets optimally.

Pangolin allows users to close deals quickly and cheaply. Pangolin is built on Avalanche, which allows users to exchange assets and benefit from transactions completed in less than one second and transaction fees as low as a few cents. Trading on Pangolin normally runs as fast as trading on decentralised exchanges.


9. Step App (FITFI)
Stepp App (FITFI) is the first app built on the Fitness Finance (FitFi) protocol on the Avalanche blockchain. The Step App uses augmented reality. Fitness Finance, the makers of the Step App, is a market economy in which participants benefit from $100 billion generated by the fitness industry. Step App is the web3 version of digital fitness experiences and apps.

Step App is a protocol for FitFi, the largest cryptocurrency adoption industry. Its first project in this protocol is a gamified step application in which you and your metaverse avatar progress together by completing daily fitness missions and PvP challenges.


10. Avalaunch (XAVA)
Avalaunch (XAVA) is a launch platform powered by Avalanche's network. On Avalaunch's platform, new and innovative blockchain projects can use easy and secure decentralised fundraising. Using Avalanche's scalable and low latency platform, Avalaunch is built to grow strong communities.